Last Update: September 6, 2023


LITTLE HELP CONNECT allows you to manage your LINE friends as contacts in HubSpot. This makes it possible to perform segment and step distribution of LINE while utilizing HubSpot's CRM information.

This article explains how contacts are created via LINE and its features.



How a contact record is created via LINE
After installing LITTLE HELP CONNECT on HubSpot, a contact record is created on HubSpot via LITTLE HELP CONNECT at the following timing.


When you add a LINE official account as a friend.
When you send a reply message to the official LINE account.
When you unblocked the official LINE account.



Actions by LITTLE HELP CONNECT users

Timing of importing official LINE count friends.
When you created a contact with the value of the "LINE User ID" property directly in HubSpot in some way *.


* Basically, a LINE contact is created in HubSpot as a contact record via a LITTLE HELP CONNECT. However, as an exception, a LINE contact can be created in HubSpot without returning a LITTLE HELP CONNECT by having the "LINE User ID" property of HubSpot have a value.
When a LINE contact is made, a list of friends is displayed in the "Friends" section of LITTLE HELP CONNECT.

LITTLE HELP CONNECT does not keep any data of your "friends". If you want to merge or delete friends manually, you need to do it on HubSpot side.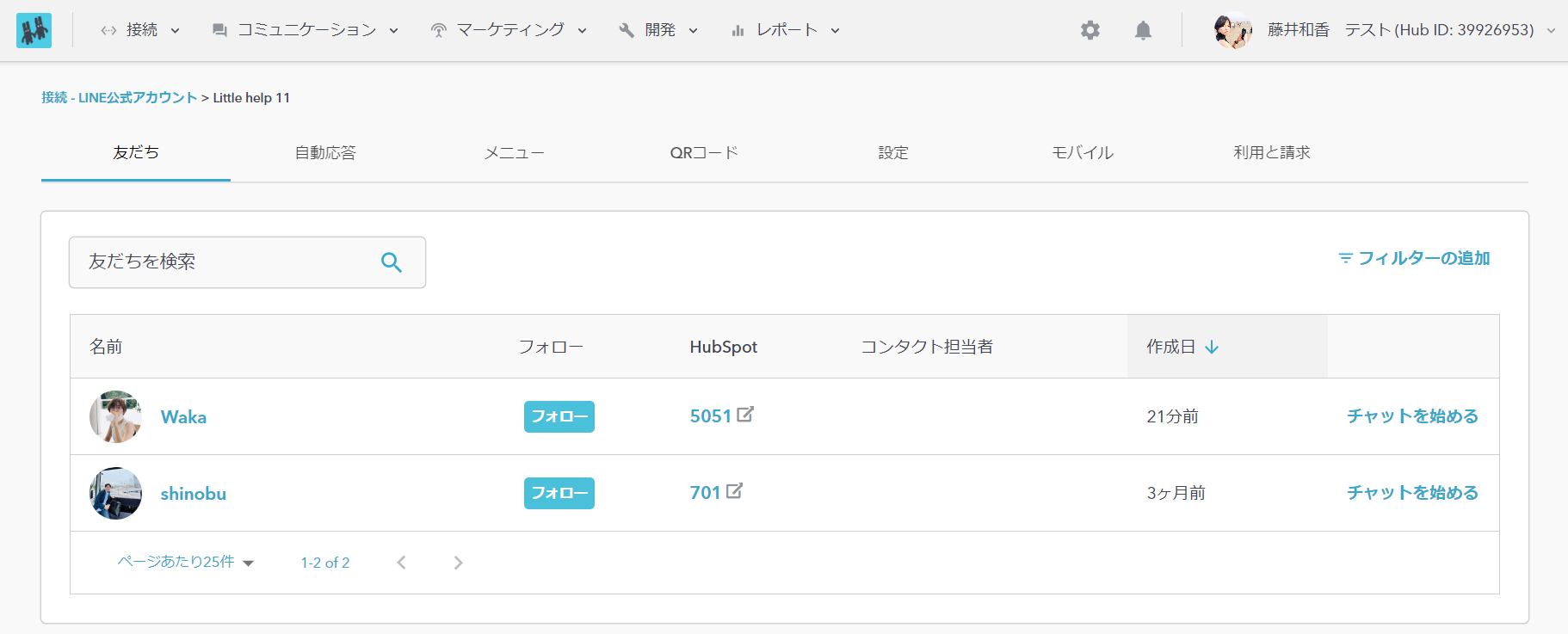 Characteristics of contacts made via LINE
LINE-related properties that must have a value
LINE contacts created via LITTLE HELP CONNECT will always have values for the following properties by default.
LINE User ID
The LINE User ID is stored.


LINE User Name
Stores the registered name of the LINE user.


LINE User Picture
Stores the URL of the LINE profile picture.


LINE ID Sync Date
Stores the date when the LINE User ID was first synced to HubSpot.


LINE Follow
The follow status is stored (YES: follow, NO: block).


How email "line.me" is created
The "Email" property of a LINE contact will store one of the following email addresses
Email address with generic domain
Email address with domain "@line.me"


If a LINE Friend has registered his/her email address with LINE, and if LINE Official Count has also been able to retrieve that email address, then a generic email address will be stored in the "Email" property (e.g. @gmail.com, @yahoo.co.jp).

On the other hand, if the LINE friend has not registered his/her own e-mail address with LINE in the first place, or if the official LINE count was not able to acquire the friend's e-mail address, the "E-mail" property will store the e-mail address created arbitrarily by LITTLE HELP CONNECT as dummy data.

The dummy data will be created by adding "@line.me" to the end of your friend's "LINE User ID".
Background on dummy data in "Email"


Due to HubSpot's specifications, contacts without an "Email" are not eligible for tracking, and it is not possible to obtain whether or not a LINE message has been opened or clicked. By including dummy data in "Email", we can track not only opens and clicks, but also a variety of other activity information.
Conditions for displaying a LINE icon next to the contact name
When a LINE friend is registered with HubSpot, a LINE icon may appear to the left of the contact's name.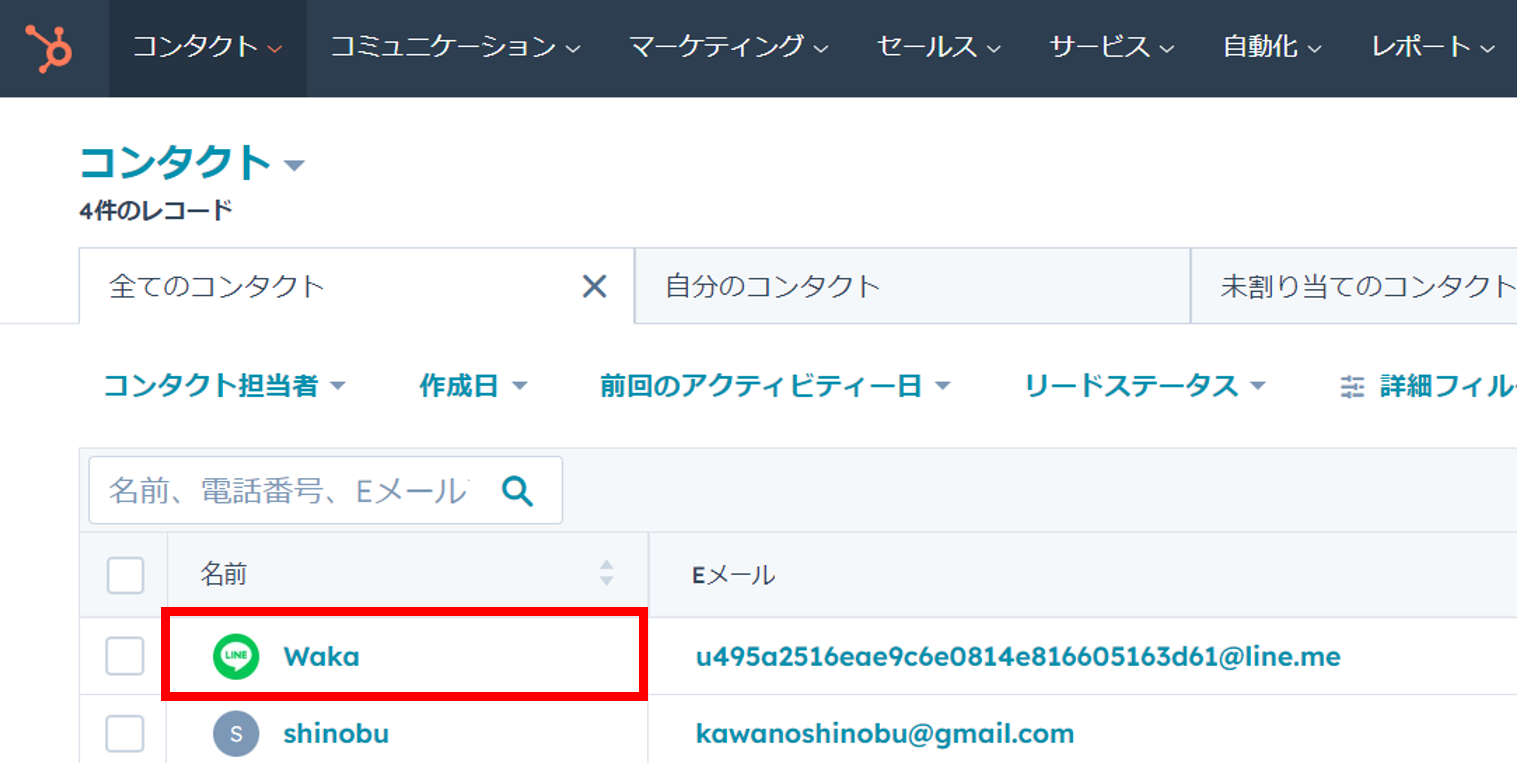 The LINE icon will appear only when the following two conditions are met
1. contacts created on HubSpot by either of the following methods

Imported by LITTLE HELP CONNECT
LINE ADD BY A FRIEND
Replied by a friend
Unblocked by a friend

2. contacts whose email address could not be obtained from LINE