When you log in to the LITTLE HELP CONNECT administration screen, you will first see the LINE Analytics screen. The report will show you the following totals.
Total number of friends
Total Blocks
Total number of messages sent
Total 1:1 Chats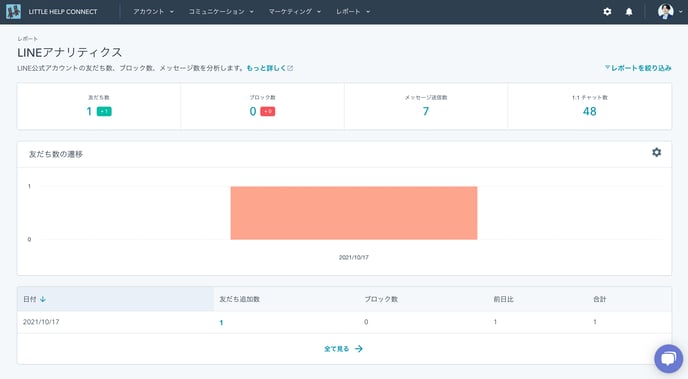 In the middle section of the report, you can see the number of added and blocked friends in chronological order. The list at the bottom shows the number of changes in a table format.

These data can be narrowed down by any condition. Click the "Refine Report" button in the upper right corner of the screen to display the filter settings panel.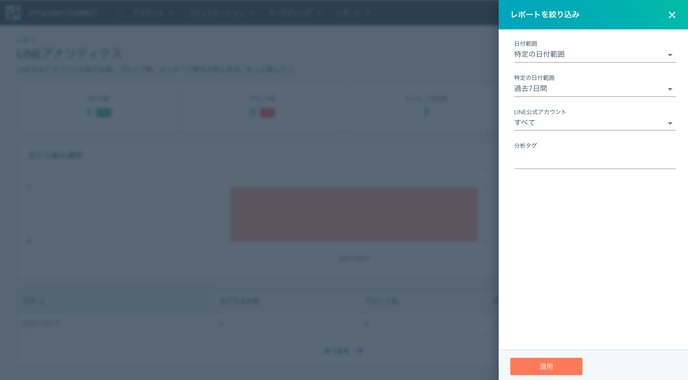 The following conditions are available in the filter
Date Range


All data
Today
Yesterday
This week
Last week
This month
Last month
Current quarter
Last quarter
This year
Last year
Specific date range


Last 7 days
Last 14 days
Last 30 days
Past 60 days
Past 90 days
Last 365 days

Custom Date Range


LINE Account Connection
Analysis Tags
You can refine the data in the report by specifying the filter conditions and clicking the "Apply" button at the bottom of the panel.


Next: Exporting reports