The price of LITTLE HELP CONNECT is divided into the following two categories.
Monthly fee
Additional message fee
The monthly fee is charged every month regardless of usage. The number of free messages that can be sent is set for each plan you subscribe to. Some features are only available for customers with higher plans.

Additional message fees will be charged when the number of free messages that can be delivered is exceeded. The cost is 0.02 USD per message for the Basic and Professional plans, and 0.01 USD per message for the Enterprise plan.

The monthly fee is paid in advance at the beginning of each month, and the additional message fee is paid after the end of each month around the 10th of the following month. For more information about the plans, please refer to the product page.

How to calculate the delivery message

Messages delivered via the Push API of the official LINE account are the messages that are billed to you. LITTLE HELP CONNECT uses the Push API in the following cases.
Message delivery from HubSpot Workflow
Send messages via 1:1 chat
Since auto-responders use the Reply API, they are not charged. However, if an error occurs in the Reply API, the Push API will retry sending. In that case, you will be charged. (When sending a message with a script, the Reply API may not be available.

In 1:1 chat, we use the Reply API to send messages whenever possible. However, in many cases, you cannot use the Reply API because it requires you to send a message immediately after receiving a message from the other party. Basically, please be aware that sending messages in a 1:1 chat is also subject to billing.

You can check the number of messages delivered via the API in the "Analysis" and "Message Count" sections of the LINE Official Account Management screen.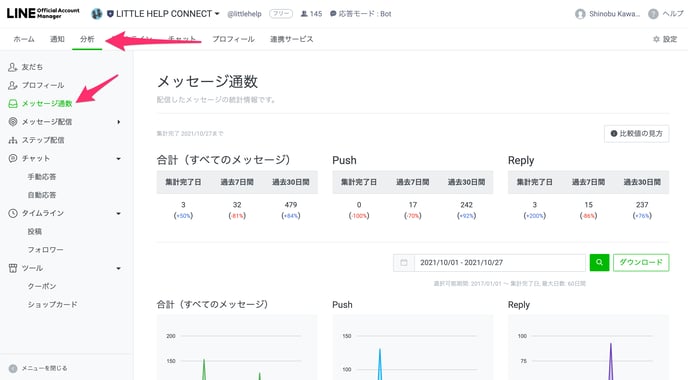 Next: Cancel for LITTLE HELP CONNECT