LINE Contacts has custom properties for storing the information of your LINE friends. Here is an explanation of the specifications for each.

LINE User ID
Stores the ID of your LINE friend.

LINE User Name
Stores the LINE friend's nickname.

LINE User Picture
The URL of your LINE friend's profile picture.

LINE ID Sync Date
The date when your LINE ID was synced with your LINE friend.

LINE Follow
The LINE friend's follow status (YES: Follow, NO: Block).

LINE Unanswered
YES when a message is received from a LINE friend.
If you reply to a message from Chat, the message will be answered NO.

LINE Last Reply Message
The last message received from a LINE friend will be stored.

LINE Last Send Message
The last message sent to a LINE friend will be stored.

LINE Traffic Source
The inflow route of LINE friends will be stored.

With LITTLE HELP CONNECT, you can connect multiple official LINE accounts to a single HubSpot portal. In this case, the above properties will be assigned sequential numbers (X) in order to manage the friend information of each account. You can check and change the sequential property numbers in the LITTLE HELP CONNECT settings page.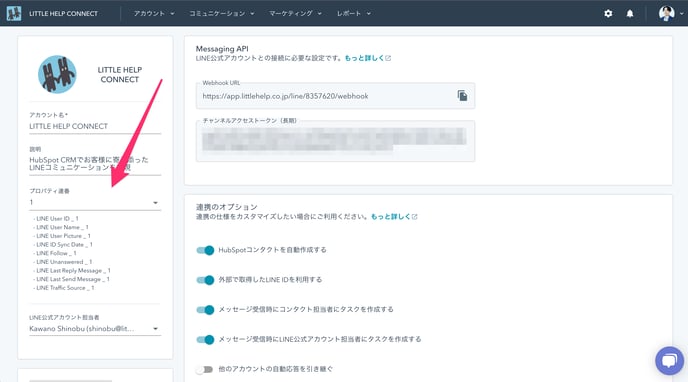 Next: Tracking page views